Things to avoid while planning for cost cutting
Several times people think to cut their expenses and looks to find out best methods to save more money but they end up doing it mostly in terrible ways. It all happens normally whenever there is some sudden expense that could not be avoided, or may be if some earning source is no longer available.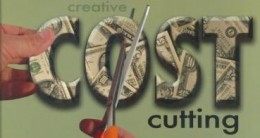 During the time of recession, many people lost their jobs and homes in the difficult period and started cost cutting for each and everything. It was one of the most common advices to survive during the period of recession. Though it is good, to a certain extent, to cut costs on various things and activities that are not very essential, but one must take care on what all things you are planning for cost cutting.
Actually, recession was a great learning lesson for everyone which helped many people to manage their finances better. It let people understand the value of money in a better way and know what all expenses could have been reduced without affecting much of their lifestyle. Actually, cost cutting should not only be done in tough times, but it should also be adopted in your day-to-day life. Before applying cost cutting, you must consider few things on which you should not cut costs.
Here is a list of few things on which you must not consider to cut cost:
Quality of Food
Eating good food is very essential for a healthy body. So, one should not cut costs while purchasing food items. If you will cut cost in food then either you are going to eat less or you will be buying cheaper food products which could affect your health, being of inferior in quality. So, never consider cost cutting on food though you may consider cutting your dinner outings that can really save you more money.
Education
It is the only thing that you can rely on in every walk of your life. So, do not ever think to quit studies or give it a break. Do some hard work to earn more and continue your education to get rich experience which will surely help you to earn more respect and money in the society.
Health Care
As goes with quality of food, taking care of your health is also extremely important. You should not avoid health issues or doctor visits to cut costs even in hard times. A little ignorance can prove to be a bigger health issue and may cost you even more in long run. So, always give priority to your health.
Insurance
Many people decide to break their insurance policies when they feel short of money, but you should never break your insurance policies at all. Think of your family if in case any unfortunate event happens with you. Always have a Life insurance and Health insurance to secure your family in tough times but remember not to mix insurance with investment. Life Insurance must be pure term insurance and should cover at least all your liabilities.
So, do cost cutting for the things which are really not required or expenses done purely for entertaining you but do not cut costs for things which may prove to be disastrous in the long run.
From the below link, find out the various ways by which you can save money without affecting much of your lifestyle.
Related Articles:
Teach kids about money - Tips to teach kids about money
Tips to host a budget-friendly Party - Budget Friendly Party Tips
Save Money by managing personal expenses