Things to Consider Before Buying a House for Investment
Buying one's own house could be a dream come true for most of us. Though, some people buy a house for their personal use, others may buy it as a pure investment. Buying a house can serve as great investment instrument, as the price of property usually tends to rise more than inflation rate. Apart from the price rise, the house may also provide a regular stream of income if it will be given on rent. For retired people, it could be one of the best instruments to generate a regular income that can be utilized to serve for their daily expenses. The rental income is usually inflation adjusted, so you won't even need to worry about the increasing inflation.
Though, buying a house seems to be the most lucrative investment option, you need to take utmost care while selecting a house for investment purpose. There are various factors which may help you to get higher prices and the possibility of appreciation is also high.
Thus, here are some of the factors that should be kept in mind before buying a house.
Location: Location of the house is the most important factor that one should keep in mind before buying. It is always appreciable to buy a house at a location which is nearby an industrial or commercial hub. Such houses also manage to get tenants and re-sale buyers very easily, as most of the people want a house which is near to their workplace. Another option could be buying a house which is sea facing rather than the one which is at the back side, as such houses get good re-sale value than the others. This is also one of the reasons why the builders charge a higher PLC (Preferential Location Charge) for the park, pool facing or corner houses. Thus, the location of the house is the most important factor that governs its re-sale value.
Connectivity: Connectivity is another important factor that one must consider before buying a house. It is advisable to buy a house from where you can easily get public transport. Moreover, if the house is at such a place which is close to the railway station or airport, then there are more chances of its appreciation as compared to some other place which is not well connected. Also, houses that have schools, colleges, shopping complexes, and hospitals in their close vicinity get good re-sale value.
Quality of the Building: Quality of the building /house is also an important factor to be kept in mind before purchasing a house.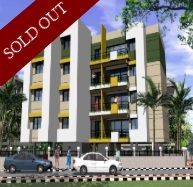 The house with good condition and structure get good buyers. Also, occasional renovations and maintenance increases the re-sale price of your house. Usually, houses with 2-3 bedrooms are the ones which are always in higher demand as compared to extremely small or larger ones. A house in a society with good security system, ample parking space, and recreational areas or club, gets good re-sale price.
Infrastructure Projects: Try to look for a house in such an area which has some infrastructural projects scheduled to come up. Once the project will get operational, it will generate new employment opportunities, thereby increasing the demand of houses for living. Such areas get higher and faster appreciation in prices, thus increasing the re-sale value of the house.
Areas/Places to avoid for buying a house
• Do not buy a house which is near any religious place as it will create noise and disturbance at odd hours.
• Do not buy a house at such a place which adjoins any slum area because it is unsafe and also unhygienic.
• Avoid buying a house in areas where the price of property has increased unrealistically in a short span of time, because there will surely be downward pressure is such areas.
If you will not take care of the above points, you may end up with dead investment or something which may not give you returns as expected. It may even corrode your investment if you end up with a flat in poor location due to some lucrative offer or false claims thrown to you by any builder. So, before investing your money, take your time to properly investigate about the future plans and check out the locality if it is really worth investing.
Related Links:
Options to Invest Money - Investment Options.
Things to consider before buying a plot of land
To submit your posts on Money Management Ideas, feel free to contact us.